Company News on Insights, Industry Trends, Installations and Upgrades.
December 22, 2020
In order to streamline operations and simplify monitoring and management of today's and tomorrow's payments technologies, International Bank of Commerce (IBC) is live with G4 Web-based applications as the new front end interface for their SWITCHWARE® card and ATM management production environment.
International Bank of Commerce
Founded in 1966 to meet the needs of small businesses in Laredo, Texas, IBC now serves as the flagship bank of …
November 18, 2020
Starting in January 2018, organizations that use cryptogram-based encryption methods to protect their symmetric keys began transferring to a key block-based encryption method. This change reflects the update made to PCI PIN guidelines to better protect cryptographic keys from unintended use. Of the various methods available, the TR-31 key block format is the most popular.
November 2, 2020
Manama, Bahrain: National Bank of Bahrain (NBB) is now live with a tokenization pilot (via the Bahraini-based Benefit switch network) for both debit and credit card applications using their employees. Token life cycle and token transaction authorization is fully functional. NBB will expand their pilot to include cooperating business users before release to their entire customer base. Recently live with SWITCHWARE® for Linux, NBB has …
September 22, 2020
Dear Valued Customer,
Considering the ongoing COVID-19 virus pandemic, CSF International (CSFi) wishes to communicate to you that we are conducting our business as usual and you will not experience any degradation in customer support services. All CSFi staff members are being socially responsible and adhering to government-imposed precautions to limit the spread of this virus and to avoid placing undue strain on our country's health …
September 14, 2020
A customer of CSFi since 1998, Abu Dhabi Islamic Bank (ADIB) is live with a new SWITCHWARE® direct interface to Visa International complementing their existing SWITCHWARE direct interface to MasterCard. ADIB is one of the leading banks in the United Arab Emirates with additional banking operations in Iraq, Qatar and the United Kingdom.
Value, Service and Accountability
CSFi prides itself on the length and strength of customer …
September 4, 2020
CSFi established direct VPN channels with each of the three major ATM manufacturers, Diebold Nixdorf, NCR and Hyosung. This direct approach will streamline the certification and testing process for new ATM hardware components and installed software modules on the ATM. Previously, CSFi had to rely on hardware and software delivered directly to CSFi labs in order to carry out the certification process. With a direct …
August 25, 2020
2020 CSFi Newsletter, Issue 22
Featured Story: New Release: SWITCHWARE® 4.1
Highlights: SWITCHWARE®4 TR-31 Key Block Support, IBC Deploys G4 Web Applications, New Release: G4 MIS Reports, NBB Deploys Pilot Tokenization Program, G4 1.5 Update
July 8, 2020
The latest installment of G4-Web Version 1.5 is almost here! Our ongoing development of this popular web management tool represents CSFi's commitment to providing our customers with superior ATM/debit payment processing and switching solutions.
May 5, 2020
CSFi High Availability and Disaster Recovery Solutions (HADR)
Operating in today's
round the clock global economy, means mission critical applications cannot
afford to be off-line for even a small period of time. Natural disasters and
increasing requirements for 24/7 operations means the need for high
availability solutions is greater than ever before.
CSFi's high
availability support solutions offer a variety of proprietary in-house options
for increasing system efficiency and reducing downtime…because, stable …
April 27, 2020
Newman, IL: Longview
Capital Corporation is a closely held multibank holding company
dedicated to serving rural areas of central Illinois and West Central
Indiana. For over a decade, Longview Capital has relied upon CSFi to provide the most advanced
technology available to support the connection between their Precision core
banking systems and EFT networks.
The virtual implementation of their EMV compliant
upgrade from EZswitch® Plus to EZswitch® G4 benefits both the cardholder …
April 21, 2020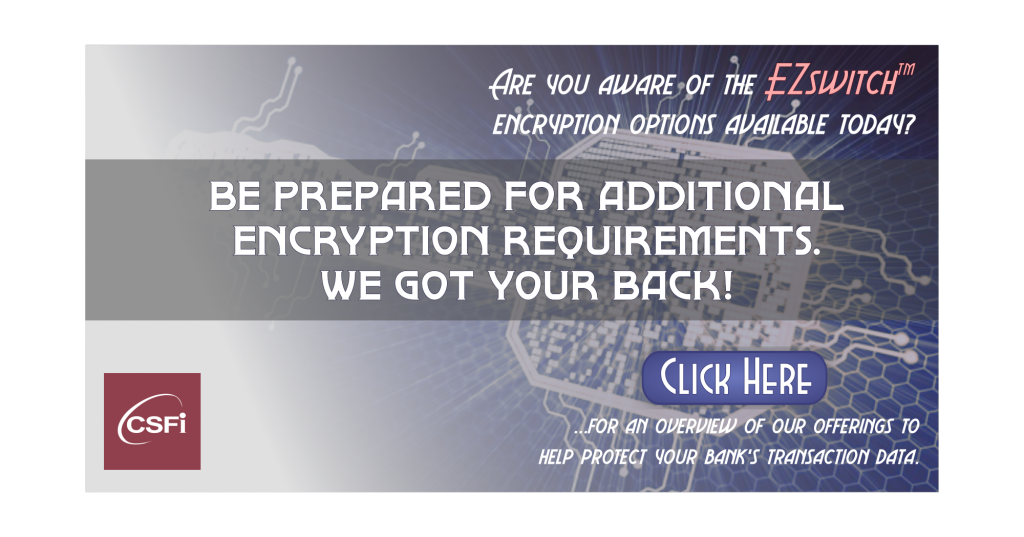 CSFi data encryption solutions are designed from the ground up to provide top-rated data security and encryption
April 18, 2020
The ECB Lays Down the Law
To protect the integrity of EURO banknotes, the European Central Bank (ECB) has issued mandates describing currency management protocols.
The ECB measures are deemed necessary
to protect Euro banknotes against counterfeiting and require ATM operators
within the Euro area to withdraw from circulation all Euro banknotes known or
suspected to be counterfeit.
ECB Article 6 Terms of Reference provides details of different note categories, how
each …
April 9, 2020
Since many of our customers rely upon Microsoft products in their data centers, CSFi has continued to provide support for Microsoft's legacy web browser, Internet Explorer. Now that Windows 7 is no longer supported the new Microsoft Edge browser has become the standard browser available for Windows, version 8 and onward. As a result of this change, CSFi intends to discontinue support for IE with …
March 24, 2020
CSFi data encryption solutions are designed from the ground up to provide top-rated data security and encryption standards in a fully integrated and easy to implement form. Whether operating thousands or only a few ATMs, the secure transmission of transaction data is essential. Looming regional and global mandates require deployment of the most secure communications protocols available. Anything less will no longer be an option. Profitability and sustainability of transaction processing environments are dependent on successful implementation of mandated encryption protocols.
March 23, 2020
Keep your G4 payment processing platform optimized with latest updates from CSFi. With Version 1.4 just released and V 1.5 just around the corner it pays to stay abreast of the latest developments.