Company News on Insights, Industry Trends, Installations and Upgrades.
August 25, 2020
2020 CSFi Newsletter, Issue 22
Featured Story: New Release: SWITCHWARE® 4.1
Highlights: SWITCHWARE®4 TR-31 Key Block Support, IBC Deploys G4 Web Applications, New Release: G4 MIS Reports, NBB Deploys Pilot Tokenization Program, G4 1.5 Update
July 8, 2020
The latest installment of G4-Web Version 1.5 is almost here! Our ongoing development of this popular web management tool represents CSFi's commitment to providing our customers with superior ATM/debit payment processing and switching solutions.
May 6, 2020
Dear Valued Customer,
Considering the ongoing COVID-19 virus pandemic, CSF International (CSFi) wishes to communicate to you that we are conducting our business as usual and you will not experience any degradation in customer support services. All CSFi staff members are being socially responsible and adhering to government-imposed precautions to limit the spread of this virus and to avoid placing undue strain on our country's health …
May 5, 2020
CSFi High Availability and Disaster Recovery Solutions (HADR)
Operating in today's
round the clock global economy, means mission critical applications cannot
afford to be off-line for even a small period of time. Natural disasters and
increasing requirements for 24/7 operations means the need for high
availability solutions is greater than ever before.
CSFi's high
availability support solutions offer a variety of proprietary in-house options
for increasing system efficiency and reducing downtime…because, stable …
April 27, 2020
Newman, IL: Longview
Capital Corporation is a closely held multibank holding company
dedicated to serving rural areas of central Illinois and West Central
Indiana. For over a decade, Longview Capital has relied upon CSFi to provide the most advanced
technology available to support the connection between their Precision core
banking systems and EFT networks.
The virtual implementation of their EMV compliant
upgrade from EZswitch® Plus to EZswitch® G4 benefits both the cardholder …
April 21, 2020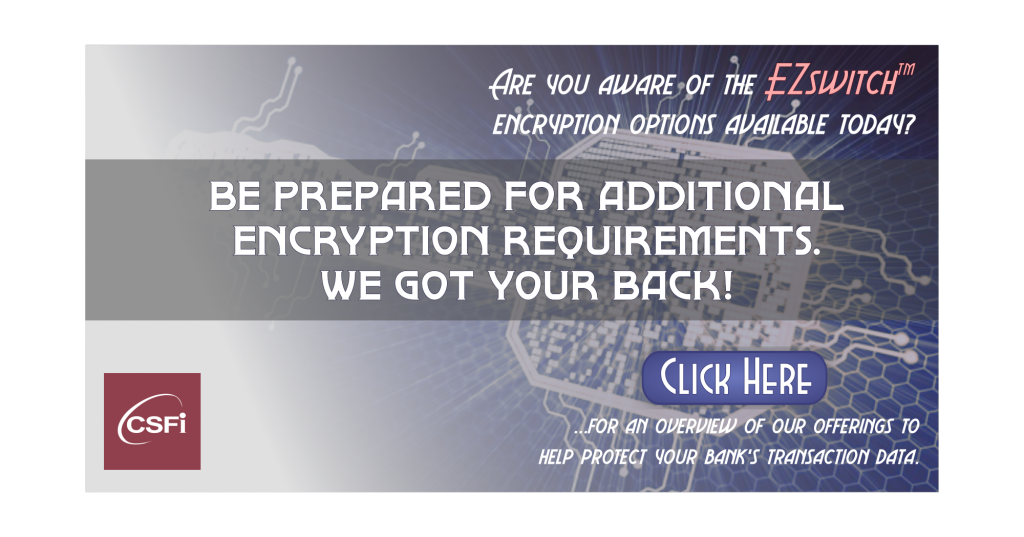 CSFi data encryption solutions are designed from the ground up to provide top-rated data security and encryption
April 18, 2020
The ECB Lays Down the Law
To protect the integrity of EURO banknotes, the European Central Bank (ECB) has issued mandates describing currency management protocols.
The ECB measures are deemed necessary
to protect Euro banknotes against counterfeiting and require ATM operators
within the Euro area to withdraw from circulation all Euro banknotes known or
suspected to be counterfeit.
ECB Article 6 Terms of Reference provides details of different note categories, how
each …
April 9, 2020
Since many of our customers rely upon Microsoft products in their data centers, CSFi has continued to provide support for Microsoft's legacy web browser, Internet Explorer. Now that Windows 7 is no longer supported the new Microsoft Edge browser has become the standard browser available for Windows, version 8 and onward. As a result of this change, CSFi intends to discontinue support for IE with …
March 24, 2020
CSFi data encryption solutions are designed from the ground up to provide top-rated data security and encryption standards in a fully integrated and easy to implement form. Whether operating thousands or only a few ATMs, the secure transmission of transaction data is essential. Looming regional and global mandates require deployment of the most secure communications protocols available. Anything less will no longer be an option. Profitability and sustainability of transaction processing environments are dependent on successful implementation of mandated encryption protocols.
March 23, 2020
Keep your G4 payment processing platform optimized with latest updates from CSFi. With Version 1.4 just released and V 1.5 just around the corner it pays to stay abreast of the latest developments.
March 22, 2020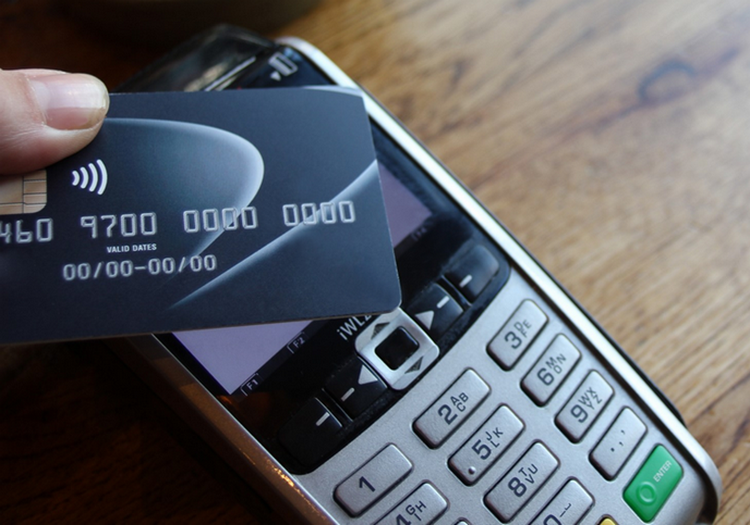 Globally established as a safe, highly secure and popular payment method, more and more merchant payment terminals include a contactless payment symbol indicating that NFC payments can be made at the terminal.
Contactless or Near Field Communication (NFC) payment methods include bank issued debit/credit contactless cards, key fobs, mobile devices (using Apple Pay, Samsung Pay, Google Pay, Fitbit Pay, etc.) or any financial institution's mobile application …
March 3, 2020
Boubyan Bank and Abu Dhabi Islamic Bank are now live with SWITCHWARE® SSL/TLS Encryption for their networks of NCR ANDC-driven ATMs. As the only SSL/TLS solution fully integrated with SWITCHWARE, both Banks now rely upon CSFi's SSL/TLS solution for end to end encryption between SWITCHWARE and all connected devices. CSFi strongly recommends that customers make the move to TLS 1.2 as soon as possible.
Encrypting …
February 26, 2020
Designed to streamline the management and monitoring of card initiated transactions, MEMA (Modified Exponential Moving Average) is CSFi's proprietary tool allowing users to set and track threshold values on void code occurrences.
Preinstalled in every version of SWITCHWARE®  powerful MEMA functionalities enhance the cardholder experience by ensuring financial institutions are aware of potential problems before they receive a customer call. Alerts can be sent to designated …
February 13, 2020
2020 CSFi Newsletter, Issue 21
Featured Story: CSFi Celebrates 40th Anniversary.
Highlights: MEMA: Predictive Alerting, SSL/TLS Encryption, Contactless Card Limits, Counterfeit Euro Control Mandate, G4 1.4 Update
November 4, 2019
In order to streamline operations and simplify monitoring and management of today's and tomorrow's payments technologies, Boubyan Bank is live with G4 Web-based applications as the new front end interface for their existing SWITCHWARE® payment authorization and transaction switching system.
Since its inception in 2004, Boubyan Bank has been recognized for its customer service excellence, rapid growth and cutting-edge digital banking facilities. Since 2011 the bank …